Welcome
Tribal Journeys 2017 was an amazing few weeks of culture and sharing.
All of our hosts were wonderful and amazing. The final count of canoes at formal landing in Campbell River was 87 with approximately 5000 people in attendance. On average there was between 500 and 1500 people in daily attendance of the Protocol.
Please see our pictures on our Canoe Family facebook page
https://www.facebook.com/groups/Qwyano/
Updates are posted here as they get done.
Corporation # 430214-1 CRA #83526 9077 BC 0001 Society# CD-8346782389
"It Takes a Village to Raise a Child"
-Author Unknown

We provide Community Programs across Canada; with our home office in British Columbia and our missions in the USA and abroad. Our core members have worked in a variety of community settings, volunteering their time to promote wellness, secular education, and community. Our core teachings and principles are of a World Conscious, Aborginal, and nature perspective including; First Nations, Druidic, and Gaian. Our broader view is that of Interfaith and the acceptance of all!
While individuals may be of various Spiritual, religious and cultural beliefs within the WorldTree Community, it is not our purpose to promote, convert, or otherwise disseminate religion; rather it is to help sustain and d

evelop community in developing relationships of Equity and Equality by acts of kindness, charity, and social innovation. See our community programs and support or contacts for consultation and ask us how we can support you and your community.
The WorldTree core practices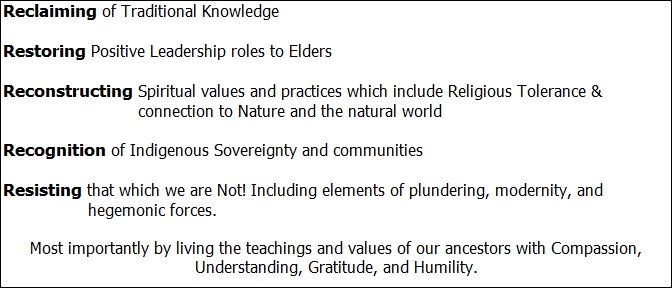 One Spirit Canoe Fundraiser
(Black= Funds raised to-date April 2012)

Our One Spirit Canoe Family has successfully completed another season of Tribal Journeys and raised $2,500 towards our own canoe. We thank Gogo's Mill for the donation of cedar planking for our Veterans canoe. We thank Potlatch funds for supporting our 2011 Elders on Tribal Journeys as well as the CNSC (Canoe Nation Support Consortium) for the donation of radios, safety equipment and life jackets.
We continue to hold yearly rummage sales in the last weekend of May and the first weekend of June, as well as our raffles and t-shirts sales on the Journeys. Our special thanks to the many large and small donations from the community in helping our youth and Elders as we grow towards our own canoe program.
Yearly the majority of the cost for our canoe Journeys is taken up by canoe rental fees, trailering, and hauling; we lose out on many opportunities for the Youth to get out and practice and for the teachable moments with the older relations.
Wellness Center Progress

We continue to work toward a Wellness Center, our community core programming. We are now seeking options to help buy or lease some wilderness land for gatherings and haveing partnerships in place for the gatherings we hold.

January 2012.